Paper Crafts
Biography
As the leading card-making publication, Paper Crafts empowers its readers to make personal and meaningful connections through the art of paper crafting. We publish easy-to-recreate projects featuring the latest techniques, products, and trends by designers who are our readers. Through our clear step-by-step instructions, variety of styles, and our growing online community, we strive to inspire all paper crafters in an everyone-can-play community where all are welcome to contribute. Paper Crafts is an enthusiast-based magazine with worldwide circulation of over 170,000 readers. Each Paper Crafts publication is overflowing with innovative ideas for creating handmade cards, wraps, albums, and more.
Where to find Paper Crafts online
Books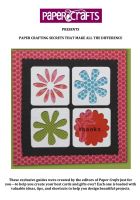 Paper Crafting Secrets that Make All the Difference
by

Paper Crafts
These exclusive guides were created by the editors of Paper Crafts just for you—to help you create your best cards and gifts ever! Each one is loaded with valuable ideas, tips, and shortcuts to help you design beautiful projects.
Paper Crafts' tag cloud