John Robinson
Biography
John C. Robinson, renowned natural history tour guide and author of six books on birds, nature, and the environment, has been studying birds and birdwatchers since 1979. An African American ornithologist, John is an advocate for minorities in bird watching. For over twenty-five years, John worked as a wildlife biologist and professional ornithologist for the US Departments of Interior and Agriculture. He wrote all the species accounts and the computer code for his comprehensive multimedia program, the "North American Bird Reference Book" CD-ROM, which has received international recognition and has sold over 108,000 copies.
Where to find John Robinson online
Books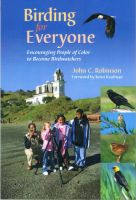 Birding for Everyone
Bird watching is the favorite hobby of millions, and a perfect activity for families to share, so why don't more people of color choose to become birdwatchers? In this book, you'll discover how easy it is for anyone to identify birds and connect with mentors who can help you start bird watching or become a better birdwatcher. Since 1979, John has introduced thousands of people to birds & birding.
John Robinson's tag cloud