Patrick Sherman
Biography
Patrick Sherman was born in Oceanside, California, in 1982. Patrick grew up in Vista California and graduated from Palomar College in 2004. Following graduation he moved to Las Vegas, Nevada, in 2004. His first book Patacus VS. The Universe was published on September 15th 2013, a science fiction comedy and the first title of the series. The first book is an epic drug induced adventure, starring Pat the video game nerd/grocery store burn out set in the wonderful alien world of Chodepuss.

Patrick wanted to write a book that was out of this world... literally. This book is NOT for people without a sense of humor or who are easily offended, it is pretty out there, insane!
Books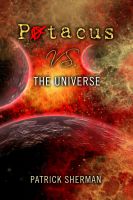 Patacus Vs. The Universe.
by

Patrick Sherman
Our story begins with Pat who is just a normal human on Earth when suddenly he is warped away…into the fantastic magical world of Chodepuss, where the simpleton hillbilly locals think Pat's video game exploits are a reality. Pat is championed as a hero and aided by a friendly robot; he is forced into the chaotic madness, of the already doomed planet.
Patrick Sherman's tag cloud