Patricia Askins
Biography
Pat is a mother and grandmother who enjoys sharing stories about her childhood with her family. She is a Southern bred lady that lives in Colorado. She loves sewing,along with baking and cooking the southern way. Pat is a singer,certified storyteller, and inspirational and motivational speaker.She is the author of a published children's book, Twigs, Leaves and Rubber Bands. Pat visits schools telling stories to children of all ages. She has sang and spoken in many places, including Haiti.
Books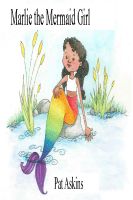 Marlie the Mermaid Girl
by

Patricia Askins
Marlie is a pretty girl that hates doing chores and eating her veggies. She loves to swim. Her biggest wish is to become a fish so that she can spend all of her time swimming.She goes to her favorite swimming spot all of the time to talk to the fish. One day while swimming and talking to her fish friends her wish comes true.It is far better than she ever imagined.
Patricia Askins' tag cloud