Patricia M. Fraser
Biography
PATRICIA FRASER'S career has enabled her to savour history and ambience from Canada's Yukon to Australia to the Pacific Northwest of British Columbia. A lengthy affiliation with The Writer's Craft, a Canadian editing service, provided the nuts and bolts of strong writing.

Her fictional pieces often draw on childhood experiences in the Yukon, while a current work-in-progress is set amongst the Northwest coast Haida and Tsimsian First Nations. She is equally comfortable with non-fiction.

Ken Kirkby—Warrior Painter is a biography focussing on one of Canada's most inspiring advocates. "Kirkby's determination to make a positive difference in the way we treat our land is an important subject," she says, "but, with a larger-than-life character like Ken, magic cannot be overlooked."

Patricia writes from Salt Spring Island and enjoys quality time with her children, Jennifer, Bruce and Douglas, and their busy families on the west coast.
Books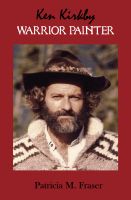 Ken Kirkby - Warrior Painter
by

Patricia M. Fraser
KEN KIRKBY—WARRIOR PAINTER is a remarkable biography about a very remarkable man. It is, also, an unusual book about a very unusual man. This is an enlightening story of a very intelligent, artistically endowed, determined and perhaps spiritually guided warrior for the conservation of the land, air and water upon which the continuation of all species, including our own, depends.
Patricia M. Fraser's tag cloud