Patrick Fourchy
Biography
Patrick Fourchy lives in California with his wife and four kids. He has practiced law since 1990, and for the past 20 years worked as a sole proprietor with an emphasis in civil litigation. An avid fan of historical fiction, 'The Treasure Hunt' is his first novel.
"I am motivated by my Christian faith, and I want to write stories that appeal to other Christians, staying true to the faith and true to history. I think the development of the early church throughout the Roman Empire the perfect backdrop for good story telling. Ancient Rome's history is so compelling, and so are the stories of the early Christians. The time period provides all one needs to write stories that emphasize action, adventure, romance, and of course, conversion."
Mr. Fourchy plans to keep writing stories that entertain Christians, tell some history, and give honor to God.
Books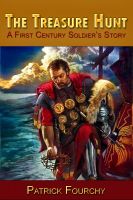 The Treasure Hunt: 'A First Century Soldier's Story'
by

Patrick Fourchy
'The Treasure Hunt' is historical fiction for Christians, set in the first century. Cyrus, a gifted teen from Tarsus, Cilicia, grows up fast in the rough and tumble world of the Roman Legion. His adventures take him from Tarsus to the battlefields of Armenia, and finally to Jerusalem and Rome, where he must confront his own faith, save those he loves most, and find the world's greatest treasure.
Patrick Fourchy's tag cloud