Patrick Ramdhony
Biography
Anybody who has circled our star 66 times like me should have a lot of things to say about the journey made. A short bio is consequently, not a very easy task. Anyway one has to start somewhere.
Two decades ago some members of the outgoing generation in Mauritius (where I was born and live) knew me as a songwriter, singer, melodist and musician - if asked, I would rate myself as 8, 5, 4 and 3 on a 10 point scale for each of these activities - but, in that respect, I am now as good as a relic hanging in a museum!
I worked as a teacher in primary education from 1970 to 2001 when I retired. Further years away, I have even been a moderate activist in politics, trade unions and many other worthwhile causes related to more democracy and liberty for all.
However, some time back, while walking on a terribly negative-energy road, I lost my health somewhere. I wanted to share what happened to me so I wrote about my story, hoping some could, as I did, find in it a simple way to survive severe health issues and perhaps use same for prevention purposes. The hardest part was how to get people to know that story.
That is when I learnt about Smashwords and was published.
Books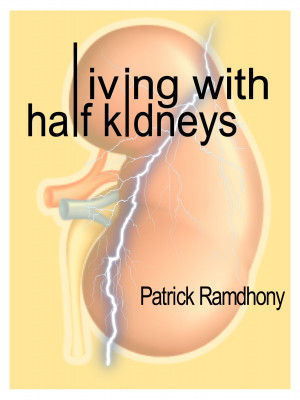 Living with Half Kidneys
by

Patrick Ramdhony
The survival story of a 66 yr old after going through kidney failure caused by high blood pressure as well as a cerebral stroke.
Patrick Ramdhony's tag cloud