Paul Davies
Biography
Paul Davies is an award winning screenwriter, script editor and playwright who has worked on a number of television series from Homicide (1974-5), The Box (1975-76) and The Sullivans (1976-78) to Skyways (1979), Rafferty's Rules (1985), Blue Heelers (1997), Pacific Drive (1996), Stingers (1998-2003), Headland (2005) and Something in the Air (1999-2001). He also helped spark the site-specific performance revolution in Melbourne in the 1980s with TheatreWorks' production of his first play Storming Mont Albert By Tram (1982). What became known as The Tram Show played over a dozen years to packed trams in Melbourne and Adelaide, generating around a million dollars at the box office and trambulating a total distance that would have taken the production halfway around the world. Its success lead to an outbreak of 'location theatre' in Melbourne throughout the 1980s including Paul's other plays: Breaking Up In Balwyn (1983, on a riverboat), Living Rooms (1986, in an historic mansion) and Full House/No Vacancies (1989, in a boarding house). These works became the subject of his doctoral thesis Really Moving Drama (University of Queensland, 2013). Both The Tram Show and another play, On Shifting Sandshoes (1988) were awarded AWGIES (Australian Writer's Guild Awards), as was Return of The Prodigal (2000) an episode of Something In The Air. Paul has written five feature films Neil Lynn (with David Baker in 1984) Traps, All That is Solid and One Way Street (with John Hughes in 1985, 1988 and 1990) plus the Greater Union Award nominated Exits (with Pat Laughren in 1980). He has taught Literature and Screenwriting at Southern Cross and James Cook Universities, and conducted workshops and script consultancies for Screenworks Northern Rivers, and QPIX in Brisbane. His novel, 33 Postcards From Heaven was first published by Gondwana Press in 2004, and is now available online as an ebook. He has also published numerous articles, reviews, stories and interviews in magazines such as Metro, Cinema Papers, Cantrill's Filmnotes, Australasian Drama Studies, Community Theatre In Australia, The Macquarie Companion to the Australian Media and Theatre Research International (Cambridge University).
Books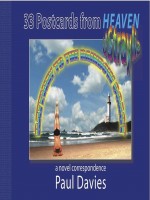 33 Postcards From Heaven
by

Paul Davies
"Postcards From Heaven" is a humorous look at the search for a perfect lifestyle. Set on one day, it describes the misadventures of Joe Deegan, incurable romantic and writer of soap operas, who comes to Heaven, UStraylia, seeking healing, enlightenment and a little lie down on an unspoilt beach. What he finds is stress, misunderstanding, betrayal, a near-death experience, and finally, hope...
Paul Davies' tag cloud