Paul Harvey Jackson
Biography
Paul Harvey Jackson is an Ulster author. Over the years he has enjoyed considerable success as a poet and short story writer. He has written two novels, both political thrillers. The first one, set in America, won a World Writers Association Award in 2004. He has been on a number of radio stations talking about his work, and has won prizes in several writing competitions.He became interested in writing for children during the years he was Information Officer with the Southern Education and Library Board. There he edited a highly successful magazine, which went out to all schools and colleges.
Where to buy in print
Books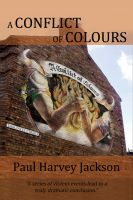 A Conflict of Colours
In A Conflict of Colours, the author brings 'The Troubles' of 1980s Ulster vividly to life. This is completed with a gritty realism. As he skilfully draws on the politics of the time to provide his backdrop, the characters are realistic with human frailties and complex personalities. The plot clearly indicates how even seemingly unconnected events can affect the most diverse group of people.
Paul Harvey Jackson's tag cloud