Paul Wiltz
Biography
Paul Wiltz is an unemployed truck driver, currently living in northern California. He no longer has a dog, and will only drive a car with a V8. He doesn't write much, but when he does, and it's in book form, it sits around for years. He's seen some things, and found that they look better with beer.
Where to find Paul Wiltz online
Books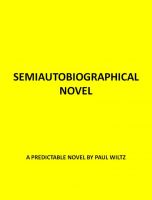 Semiautobiographical Novel
by

Paul Wiltz
Semiautobiographical Novel is the story of Dave, a twenty-something guy in a lousy relationship. Dave has great friends, a car he loves, and an Italian motorcycle that will one day be repaired. He is on the precipice of a great post-night school career change, so long as his problematic girlfriend doesn't get him killed. It's a story that embraces love as a word, rather than a concept.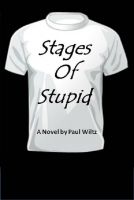 Stages of Stupid
by

Paul Wiltz
Billy means well, but his propensity for meeting women who undress in front of him is sometimes superseded by people who lead him into violent altercations. On one hand, Billy is concerned with the proper removal of his virginity; on the other hand, Billy would like to stay out of prison. The 50/50 chance offers literal results; valuable lessons are learned, however. Skin is not bulletproof.
Paul Wiltz's tag cloud