Philip David Stephens
Philip David Stephens is a pseudonym. My given name is Stephen. I had two brothers, Philip and David, both of whom passed away in the summer of 1992. The pen name Philip David Stephens just seemed appropriate.

I grew up in central Iowa and moved to Texas following college graduation. I spent thirty-three years as a manager of equity portfolios for institutional clients, primarily corporate pension and mutual funds, retiring from the business in 2004. Throughout those thirty three years I spent a lot of time writing economic and market forecasts as well as quarterly and annual client reports. I discovered over time that I enjoyed writing.

My partners and I sold our small investment management business to a large foreign bank in 2000 and found ourselves employees of a big bureaucracy. I soon discovered that I didn't really care that much for the money management business any longer, so it was time to do something else.

I plan on my first novel, the Paladin Principle, to be the first of a series detailing the exploits and adventures of the characters introduced in the book. Given the turmoil and hostility proliferating in the world today, I expect there will be abundant source material to draw from.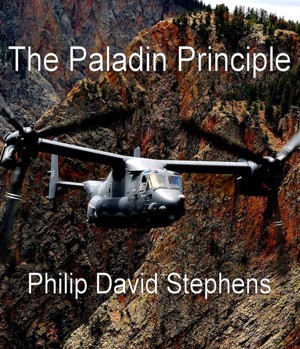 The Paladin Principle
by

Philip David Stephens
Western Civilization is at war with fanatical terrorists. The enemy strikes randomly, often uses difficult to defend suicidal tactics and hides intermingled among the general population. These ideologically indoctrinated terrorists are programmed to kill and cannot be changed. They must be eliminated. This book is about a small group of clandestine warriors that take on that challenge.