Penelope Rivers
Biography
Penelope Rivers is a bestselling author of erotica, romance novels and short stories. A hopeless dreamer, she spends her day thinking about all things fantasy, romantic and hot. It is her view that when you start choking on the occasionally dry bread of life, you need something sinfully delicious to chase it down with. Currently, she lives in Utah with an abnormal amount of pets.
Where to find Penelope Rivers online
Books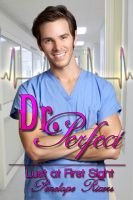 Dr. Perfect
Super Quickie Read. Dr. Perfect asks Roger to go for a ride that ultimately changes Roger's life forever… Roger both loathed and loved Dr. Matt Ryan. It is only when he discovers that Dr. Perfect wants to do perfectly lusty things to him that he realizes being in hate and in love isn't such a bad thing after all.
Penelope Rivers's tag cloud