Penelope Street
Biography
The middle child of three born to a career soldier, Penny followed her father and older brother, enlisting in the military, where she met her husband. The birth of their daughter compelled Penny to leave active duty as a soldier for the even more active duty of being a mom. Though their marriage would not last, the couple parted as, and has remained, friends. Penny currently lives in the American Midwest with her partner of a dozen years. With her daughter now in college, she has time for her leisure pursuits, including writing, quilting, and not cleaning the windows.
Books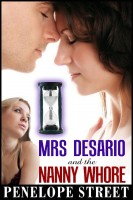 Mrs. Desario and the Nanny Whore
by

Penelope Street
A young nanny accepts a dying woman's lucrative offer to seduce the woman's husband, but the nanny soon learns what a double-edged sword seduction can be.
Penelope Street's tag cloud