Gee Jay
Biography
Retired Military, have traveled to many countries, speak the Thai language, married, have son in USAF, daughter at home pursuing internet business, I like working with my hands, writing, surfing the internet, jazz, blues, and gardening.
Where to find Gee Jay online
Books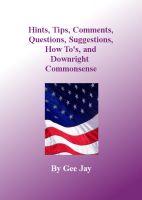 Hints, Tips, Comments, Questions, Suggestions, How to's, and Downright Commonsense
by

Gee Jay
This is a collection of one liners, memory joggers, comments, How To's, Commonsense phrases and Suggestions that I've collected over the years. Hopefully, they will capture your interest and reading enjoyment.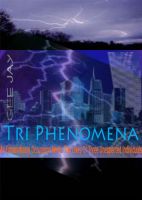 Tri-Phenomena
by

Gee Jay
This book is about a horrific event that occurred February 1st, 2003 which shocked the entire world. Three individuals effected by this event a Caucasian American male, a Mexican American female, and a Black American male gained paranormal powers due to getting infected during this event. This book is designed to satisfy the reading pleasure of America's three largest culture groups.
Gee Jay's tag cloud