Jack Kenworthy
Biography
Jack is semi-retired, living in Melbourne, Florida most of the time and Draper, Virginia some of the time. He spent 30 years as a baseball coach, physical education instructor, and academic department chair at Brevard Community College (now called Eastern Florida State College) in Melbourne. He retired from BCC at a relatively young age, but kept himself busy undertaking various avocations (high school and college baseball umpire, Leukemia and Lymphoma Society marathon "Team in Training" coach, official basketball scorekeeper for Florida Institute of Technology, and assisting members at a large hospital-based fitness center).
Jack lived his teenage years in Guantanamo Bay, Cuba during the Cold War era and became a student-athlete at the University of Florida.
Jack admittedly likes all kinds of people and shares his experiences with them in this book. He feels that he has unique stories to tell about his loving family, community college students and athletes, fellow baseball coaches and umpires, and the many interesting and hilarious characters (mostly senior citizens) that he has encountered during his seventeen years at Pro Health and Fitness (the hospital-based fitness center).
Jack is married to the former Gloria Fugate. He has a son (Russ) and two daughters (Shannon and Laci) along with five grandchildren (Jenna, Nathan, Josh, Dani, and Amelia).
Books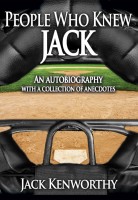 People Who Knew Jack-As Opposed to People Who Don't Know Jack
by

Jack Kenworthy
I was inspired to recollect some of my acquaintances and life experiences and to record them in the form of an autobiography. My primary reason for undertaking this project was for my own satisfaction with the assumption that some family and friends might be interested in reading the book. Others may also find this book to be interesting and humorous.
Jack Kenworthy's tag cloud