John Ross Appleton
Biography
John (or JR as he is known) is renowned throughout Australia as 'The Master Networker, Super Connector and Stellar Storyteller'. He runs a highly successful international networking business, and is a sought-after speaker, trainer and consultant to the industry. JR's successful career has earned him the respect and admiration of colleagues throughout the world.
Hundreds of people around the globe credit JR with helping them reach higher levels of success.

Expelled from school at the age of 14 for unspecified youthful misdemeanors, the larrikin-like JR was rid of the school, just as the school was rid of the larrikin. Undiagnosed dyslexia did not help, and other than a love of sport and music, there was little that the education system and JR had in common. The parting was with mutual relief!

Blessed with kindly, understanding and yet firm parents, JR excelled at his first job in the spare parts department of a motor vehicle dealership, and under the watchful eye of his boss and his father, discovered that hard work, ready charm and a willing attitude could work wonders. Above all, JR was blessed with magnificent 'people' and networking skills which made him likeable and trusted by everyone he came across.

This is his first book, but it is unlikely to be his last since he sees Old Masters Young Guns as part and parcel of his overall goal to inspire and motivate all who are open to the challenge of old, as well as new, ideas.

Roger & Barbara Andrew and Ross Addison are co- authors and partners in Crafting Words Corporate communications, a Perth based studio in West Australia. This is their seventh book and the one that has inspired and delighted them the most.
Books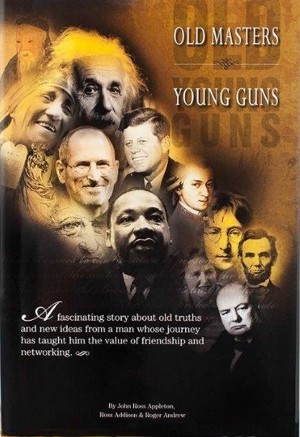 Old Masters, Young Guns
by

John Ross Appleton
Filled with hundreds of well-chosen quotations from some of the world's most foremost thinkers, writers and observers of human nature such as Albert Einstein, Zig Ziglar, Napoleon Hill, Andrew Carnegie, Dale Carnegie, and Stephen Covey, this book will capture your imagination inspiring new direction for your business or personal life.
John Ross Appleton's tag cloud