Pepper MacDonald
Biography
Pepper MacDonald is a low-level, behind-the-scenes diplomatic consultant. She works primarily for western governments, but also native peoples and environmental and human rights organizations. She lives with her changeling daughter and companion in suburbia. Pepper enjoys learning, helping a stranger in crisis, and encountering glitter in unexpected places.
Books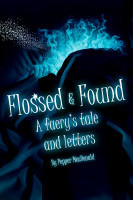 Flossed & Found: A Faery's Tale and Letters
by

Pepper MacDonald
(5.00 from 2 reviews)
When a tooth retrieval faery is caught in the act by the only child on a hippy commune, the two forge a forbidden friendship that will affect both of their worlds. Through narrative and letters, Flossed & Found tracks Maeve Faedent, the feisty faery's meddling with her clients' lives, using the relationships to undermine the secrecy protocols in her own world and rescue a few humans along the way.
Pepper MacDonald's tag cloud