Pesach Scheiner
Biography
Rabbi Pesach Scheiner was born in Brooklyn, New York, and received his rabbinical ordination from the Chabad-Lubavitch Yeshiva in Brooklyn. He is currently the rabbi of the Chabad Center in Boulder, Colorado. Chabad is an international organization which reaches out to Jews of all backgrounds, endeavoring to teach them about their Jewish heritage and to support them in Jewish practice. In his rabbinic capacity, Rabbi Scheiner teaches classes on Jewish practice, including the Jewish view on living successfully from which this book was born. He lives with his wife and children in Boulder, Colorado.
Books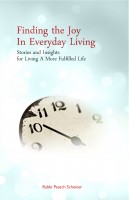 Finding the Joy in Everyday Living: Stories and Insights for Living A More Fulfilled Life
by

Pesach Scheiner
We are all in search of happiness, and often in our search, we turn to books to provide us with clues about it. But how often do those books provide us with any real answers or make any significant change in us? Finding the Joy in Everyday Living is a book that has the potential to make a real change for the good in your life.
Pesach Scheiner's tag cloud