Pete Carmody
Biography
Pete Carmody was born in Lahore, India, in 1935. His father was in the army and his mother worked for the Foreign Office and was secretary to the UK High Commissioner in Dacca when the family came to England in 1948 after India got its independence. Pete was packed off to his aunty Norma who lived in Portsmouth and finished his schooling at Hilsea Technical College. From there, he went to join the Merchant Navy and went to the TS Vindicatrix at Sharpness in Bristol, a training ship for boys.
He worked at sea from 1952 to 1959 when he came ashore, got married and had four lads. He worked at Smiths Dock and Dorman Long, then ICI at Wilton. He then got a job working offshore and stayed at it until he retired in 2000 at the age of 65. His wife Sheila was suffering bad health and needed a carer. Pete was her carer until 21 January 2009.
After a rather dark period, he decided he had to go out and do something, so he signed up for a course in creative writing at Billingham College. The Treasure of Kora-Di was started as a homework project and it grew from there.
Pete has since tried watercolour painting, unicycling and kayaking. He has climbed Scafell Pike, Helvellen and Roseberry Topping and many more with his kids, and is beginning to enjoy life again. Now at 79, he is more inclined to sit in a comfortable chair and write, so he's writing the next part of John Black's journey, this time to Sala Di where young John meets his daughter for the first time.
Books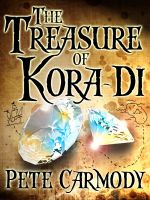 The Treasure of Kora-Di
by

Pete Carmody
Young John Black is in hot water. Advised to leave hastily, he finds himself on the three-masted Sea Urchin, bound for the Pacific Ocean. The ship's mysterious chief mate enchants the crew with stories of shipwreck, a beautiful island, an ancient civilisation and a pool of diamonds. The fabled island of Kora-Di is not on any chart. Can John Black and the crew of the Sea Urchin find it again?
Pete Carmody's tag cloud