Peter D Bishop
Biography
Peter Bishop lived in India for seven years and has a PhD in the thought of Vivekananda and Aurobindo. Following that he taught Indian religions and history in a British university. His books include: Words in World Religions, A technique for Loving. Non-violence in Indian and Christian Traditions, Written on the Flyleaf, and as General Editor (with Michael Darton) The Encyclopedia of World Faiths. He has also written widely about Gandhi.
Where to buy in print
Books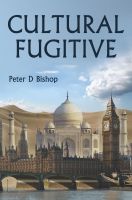 Cultural Fugitive
A sixteen-year-old boy returns to India from school in England. He develops a fascination with the land he barely remembers, becomes friendly with several Bengali young men, and finds himself in conflict with his father, a pillar of the British Raj.
Peter D Bishop's tag cloud