Peter Emeka
Biography
Peter Emeka is a born educator and a passionate advocate of financial education. He is known for his natural abilities of making complex matters simple, especially in the area of personal finance for kids and young people.

He believes our school education has done a lot to raise our children but has ignored the vital area financial education, a knowledge they need to succeed in today's world.

His desire for this education led to the writing of his first book, 'What I Wish My Parents Taught Me about Money' that introduces youngsters to the concept of money and how it works. His other books are on the way.

He holds financial seminars for children, young people and parents where he teaches basic principles of financial intelligence and how they can apply in our day-to-day lives.

He believes that lack of financial intelligence is one of the reasons why nine out of every ten start-up businesses die within five years of their existence.
He said, "An entrepreneur who cannot manage his personal finance has little or no chances of managing his business."

Peter is a graduate of the University of Nigeria, in West Africa and the CEO of Young People Financial Education Network.
Books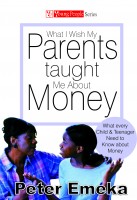 What I Wish My Parents Taught Me About Money
by

Peter Emeka
Suitable for ages 7 to 25 years, this book teaches simple yet profound and actionable strategies that every child, teenager and young person needs to know about money. You will learn; the value of earning money, the importance of saving and investing it, the difference between needs and wants, how to think like an entrepreneur, how to keep financial records, how to spend money wisely and more...
Peter Emeka's tag cloud