Peter Hurdwell
Biography
Peter Hurdwell was born in London UK in 1937 and as with many children of that erea experienced the traumas of living in war torn London during Wordl War II.

After leaving school he joined the office of a London insurance broker before being conscripted into the British Army in 1955 where most of his army service was spent in the British Zone of post war Germany.

During that time he developed a keen interest in military history and has read widely about the various theatres of the two world wars.

1964 was to be a watershed in his life when he joined his two brothers and sister-in-law to drive to Kathmandu in a 1942 ex army Willy's Jeep and an old Bedford van purchased for fifty pounds. After a journey lasting six months they eventually arrived in Australia where they all settled.

He remained single for the next thirty years but had the good fortune to meet Wendy, his future wife during a short trip to Toronto,Canada.They married the following year.

Since then he has visited the battlefields of Gallipoli andin 2005 trekked theKokoda Track. More recently he spenttime on the Western Front where he managed to find the place where his grandfatherhad fought almost a hundred years before.

He and Wendy now livein Sydney but make annual trips to stay with family in Canada.
Books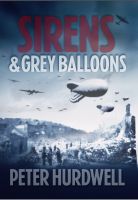 Sirens and Grey Balloons
by

Peter Hurdwell
The life of a small boy living in a London suburb which sustained heavy damage from enemy bombing where over a hundred of its citizens were killed and only ten percent of its buildings survived the war unscathed. He recalls the terror of lying in a cupboard under the stairs as the Luftwaffe bombed his suburb and later devastation caused by V1 flying bombs and long range V2 rockets.
Peter Hurdwell's tag cloud