Peter Siegel, MBA
Biography
Peter Siegel, MBA, is the Founder and President of USABizMart.com and BizBen.com, niche online communities since 1994 that have served buyers and sellers of small businesses in the U.S. and California markets. In addition to his syndicated blog posts and articles about all aspects of buying, selling and financing the purchase of small and mid-sized businesses, Siegel has authored seven books on these subjects. The popular website, BizBuyFinancing.com, founded by Siegel, is a valuable resource for the latest financing options & tools needed to successfully purchase and sell small businesses in the U.S. Through his frequent writings, online webinars and ongoing consulting practice, Siegel provides assistance for thousands of entrepreneurs and professionals involved in the business for sale marketplace nationwide.
Where to find Peter Siegel, MBA online
Books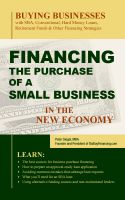 Financing the Purchase of a Small Business in the New Economy
by

Peter Siegel, MBA
More and more people want to buy a business to operate and take control of their financial futures. Good businesses are available, but it's difficult to get funds to complete a deal. That's why business sales have declined since the 2007 financial crisis. A well-known advisor who focuses on business purchase financing explains what to do, in this New Economy, to get business purchase money.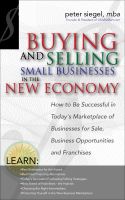 Buying and Selling Small Businesses in the New Economy
by

Peter Siegel, MBA
The reduced rate of completed small business transfers, over the past few years, demonstrates that accepted practices for valuing businesses, getting purchase money and structuring agreements are not working as effectively since 2008. A leading small business sales expert provides business buyers, sellers and sales intermediaries with the strategies needed to succeed in the New Economy.
Peter Siegel, MBA's tag cloud