Philip Johnson
Biography
Philip Johnson received his tertiary education at the University of Sydney (B.A. & B.D) and completed post-graduate study through the Australian College of Theology (M.Th). He has co-written several books including Jesus and the gods of the New Age (Lion 2001/Victor 2003), Beyond Prediction (Lion 2001), Beyond the Burning Times (Lion 2008), Riding the Rollercoaster: How the Risen Christ Empowers Life (Strand 1998). He contributed three chapters to Encountering New Religious Movements (Kregel 2004), and had essays published in peer-reviewed journals including Lutheran Theological Journal, Missiology and Australian Religion Studies Review. He was a co-founder of Sacred Tribes Journal and was a delegate at the Lausanne World Forum in Thailand (2004) in the study-group that examined New Age spirituality and alternative religious movements. He is a visiting lecturer in alternative religious movements at Morling College (Sydney Australia), and has co-written a forthcoming book on the resurrection (Hendrickson).
Where to find Philip Johnson online
Books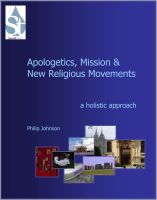 Apologetics, Mission and New Religious Movements: A Holistic Approach
by

Philip Johnson
"It is this search for balance, and his real desire to speak into living situations, that sets Johnson's work apart from earlier studies of cults and new religions. At the same time his work is innovative in other ways."
Philip Johnson's tag cloud