Philip Musson
Biography
Philip was born and grew up in Northern Ireland. When he was twenty-five he went into English-language teaching which took him to Asia for two years. Since the completion of a Master's in 2009 he, like many others, has found most doors to the working world closed. During this time, however, he has developed an avid love of reading and has spent many an hour writing as well, a life-long passion of his.
Where to buy in print
Books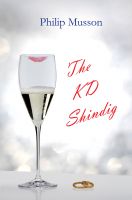 The KD Shindig
by

Philip Musson
Philip Musson has captured a totally different world from the one that most of us know; from the glamorous couple the reader is introduced to at the beginning of the book, to the self-centred actress whose masterly comeuppance during a talk show is well worth a second read. The other vignettes that form part of the book are equally compelling especially the girl who lobs a snowball into the face.
Philip Musson's tag cloud