Louis Phillips
Biography
Louis Phillips, a widely published poet, playwright, and short story writer has written some 35 books for children and adults. Among his works are: two collections of short stories - A Dream of Countries Where No One Dare Live (SMU Press) and The Bus to the Moon (Fort Schuyler Press; Hot Corner, a collection of his baseball writings, and R. I. P. ( a sequence of poems about Rip Van Winkle) from Livingston Press; The Envoi Messages, a full-length play (Broadway Play Publishers). His books for children include The Man Who Stole the Atlantic Ocean (Prentice Hall & Camelot Books), The Million Dollar Potato (Simon and Schuster), and How to Wrestle an Alligator (Avon). His sequence of poems - The Time, The Hour, The Solitariness of the Place - was the co-winner in the Swallow's Tale Press competition (l984). Among his published books of poems are The Krazy Kat Rag (Light Reprint Press), Bulkington (Hollow Spring Press), The Time, The Hour, The Solitariness of the Place (Swallow's Tale Press), Celebrations & Bewilderments (Fragments Press), In the Field of Broken Hearts, and Into the Well of Knowingness. (Prologue Press). His most recent book is The Audience Book of Theatre Quotations (World Audience, Inc.). He teaches at the School of Visual Arts in NYC.
Books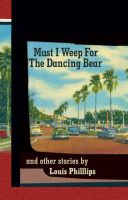 Must I Weep for the Dancing Bear, and Other Stories
by

Louis Phillips
These stories by Louis Phillips reinforce his reputation throughout his dozens of books of being imaginative, incisive, and entertaining. The voice here is that of a young man who is learning about life and about work. Phillips captures these formative years brilliantly, creating a coming-of-age collection of stories that will take you back to your own youth.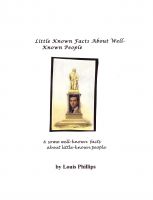 Little Known Facts About Well-Known People
by

Louis Phillips
WOODY ALLEN His first printed joke was in a gossip column. It read: Woody Allen says he ate at a restaurant that had O.P.S. Prices -- Other People's Salaries. NEIL ARMSTRONG After Neil Armstrong walked upon the moon, the Ohio Dairy Men's Association presented a sculpture of the astronaut to the Ohio State Fair. The sculpture was made out of 900 pounds of butter.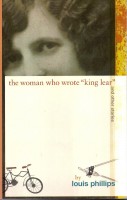 The Woman Who Wrote King Lear and other stories
by

Louis Phillips
In his 3rd collection of short fiction, Louis Phillips, a widely read author of fiction, poetry, drama, and children s stories, takes us into numerous strange worlds. From the opening story, Errata, which lists dozens of strange mistakes with a previously published story, to the final piece, Lee Harvey Oswald s Can Opener, a reader soon discovers oneself visiting an unpredictable consciousness.
Louis Phillips' tag cloud