P.H.T. Bennet
P.H.T. Bennet began exploring the world of the dreams when he was a child and never bothered to stop when he grew up. He had the good luck to have two daughters, Juliette and Paola, who not only served as the inspirations for DeeDee and Kiva, but also shared their dreams and helped him turn their family dreamwork sessions into this book. His lucky streak grew when he married his lovely wife, Mim, who tolerates his turning on a light in the middle of the night to write down ever-crazier dreams and talking about them in the morning as long as he lets her sleep in first.

Though flying dreams are his favorite, he also loves the challenge of rewinding, replaying, and revising nightmares until they have much more interesting (and less brutal) endings, the thrill of breathing and swimming at high speeds underwater, the surprise of creating new works of art, the dangers in meeting, battling, and learning from his Shadow as it changes forms, the delight of returning to Paris, where he lived for 5 years, for delicious meals, and the peacefulness he gets from dream visits with his father, who passed away four years ago. He can't wait to hear what your favorite dreams are and what dream skills you hope the book will develop. You can either share them with him at phtbennet@raisingstones.com or with everybody reading the book at http://raisingsleepingstones.tumblr.com.
Raising Sleeping Stones Trailer
Will the Stone sisters learn the Dreamkeeping skills they need to survive?
Trailer 2
Trailer 2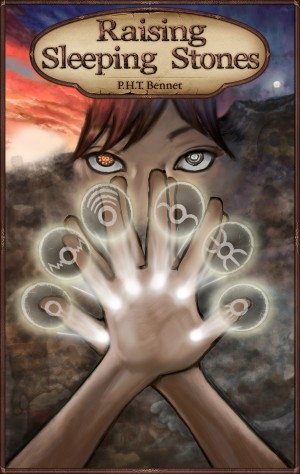 Raising Sleeping Stones
by

P.H.T. Bennet
***Winner of a 2013 Newbury Comics Award!***
 When sisters Kiva and DeeDee Stone discover a mysterious plot that threatens them and everything they care about, they have to take a crash course in the ancient art of DreamKeeping to survive. Can they become strong enough to fight the enemies that draw nearer each day? The answer lies somewhere in the broken history of the Valley of Dreams.