Harvey Jenkins
Biography
Harvey Jenkins is a Vancouver Island writer of haiku, poetry and prose. Over the years, his work has appeared in numerous print anthologies and online sites. In early 2013, Harvey released a book of haiku and prose titled, Haiku Moments on the Camino: France to Finisterre. He is a member of the Haiku Canada, BC Federation of Writers and a board member of WordStorm Society of the Arts.
Where to buy in print
Books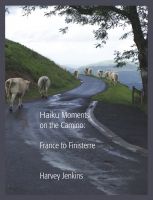 Haiku Moments On the Camino: France to Finisterre
by

Harvey Jenkins
Both recently retired, my wife and I borrowed backpacks from friends and set out on the camino francés, an 800 km walk across the northwestern part of Spain. For thirty-nine days, we experienced life as pilgrims and I recorded our journey in haiku, prose and pictures.
Harvey Jenkins' tag cloud