Pietro Gandolfi
Biography
Pietro Gandolfi nasce e vive a Piacenza e fin da bambino nutre una grande passione per tutto ciò che è horror. Cresciuto coi fumetti, ro­manzi e film degli anni '80 decide di tentare la sua strada nel mondo della letteratura: nel 2013 pubblica l'antologia personale Dead of Night e il primo romanzo La Ragazza di Greenville, comparendo nel frattempo anche su diverse antologie.

Per lui l'horror è crudele e senza compromessi, ma in fondo lo tro­va anche molto divertente.

Con lo pseudonimo di Lord è il leader della Epic Metal Band Bringer of War.
Books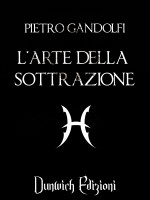 L'Arte della Sottrazione
by

Pietro Gandolfi
Burt è un uomo alla deriva. Rebecca lo ha lasciato e lui siede al bancone di troppi bar a cercare risposte sul fondo di una bottiglia. Ma dal nulla giungerà una nuova speranza, sotto forma di una splendida creatura di nome Misty: lei lo trascinerà fuori dall'abisso, in un passionale mondo fatto di arte e sesso. Ma il suo amore avrà un prezzo? Burt lo scoprirà presto..
Pietro Gandolfi's tag cloud