Tassos Antonopoulos
Biography
Tassos Antonopoulos was born in Greece--Meligalas, Messinia in 1926. His childhood and teenage years coincided with a difficult period for the country. He lived in the difficult years of the Italian and German occupation of Greece, and at the age of 16 he was inducted for service in the struggle for the freedom of his country. In 1955, he, along with so many, many others, took the path of emigration. Today, he lives permanently in the city of Chicago, United States of America.

Tassos Antonopoulos is not a writer and never tried to be crowned with the title of author. He never even sat on a desk of any universities. He finished high school at a time when schools were operating under adverse conditions, at a time when the teachers were unable, due to hunger and other deprivations, to provide students with the proper knowledge, and at a time when schools gave two Finishing Certificates a year. Tassos Antonopoulos, however, has experienced the great university of life, and received society's diploma, which he uses for his supplies to knowledge and as a unique weapon of truth, in order to write his first book, "The Calvary of Meligalas," (2006), which was revised and reissued in 2008.
Books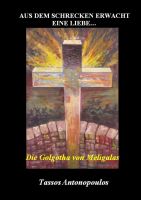 Aus Dem Schrecken Erwacht Eine Liebe…
by

Tassos Antonopoulos
Ein historischer Roman der auf wahren Begebenheiten, vom Autor eyewitnessed basiert. Die Hauptfiguren sind George und Frosso: zwei junge Menschen, die in und traf verliebte in widrigen Umständen, er der Sohn eines berüchtigten kommunistischen; sie die Tochter eines Anti-Kommunist. Sie überlebte die 1944 Griechischen Bürgerkrieg und erlebten einen wahren Golgatha der Unmenschlichkeit in Meligalas.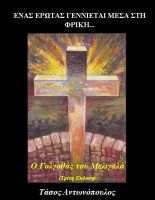 Ένας έρωτας γεννιέται μέσα στη φρίκη...
by

Tassos Antonopoulos
"Ενας ερωτας γεννιεται μεσα στη φρικη... ". Μια αληθινη ιστορία. Ο συγγραφεας, αυτοπτης μαρτυρας, Πρωταγωνιστες ο Γιωργος και η Φροσω, δυο νεαρα παιδια που γνωριστηκαν και ερωτευτηκαν κατω απο αντιξοες συνθηκες. Εκεινος γιος εγκληματια κομμουνιστη, εκεινη κορη αντικομμουνιστη. Εζησαν τον κατοχικο εμφυλιο στην Ελλαδα το '44 και βιωσαν την απανθρωπια, τον παραλογισμο και τον Γολγοθα του Μελιγαλα .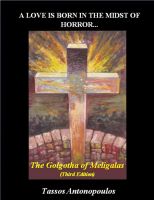 A Love Is Born In the Midst of Horror ...
by

Tassos Antonopoulos
A historical novel based on true events, eyewitnessed by the author. The main characters are George and Frosso: two young people who met and fell in love in adverse circumstances—he the son of a notorious communist; she the daughter of an anti-communist. They survived the 1944 Greek civil war that followed German occupation and experienced a true Golgotha of inhumanity and horror in Meligalas.
Tassos Antonopoulos' tag cloud