D N Maphosa
Biography
While forgiveness has healed wounds in some circumstances, silence over an issue that need serious attention cannot amount to forgiveness. We must express our long held concerns through legal channels (International Court of Justice comes in handy) and come up with a solution. While compensation (monetary) in itself cannot make up for some of the losses, it would show a sense of responsibility on the part of loss-creator. We cannot continue shying away from sensitive issues, including the demand for reparation, nor can we get tired until what is possible has been done to heal the wounds inflicted by the colonial powers and Mugabe's regime. The duty of a leader is to effectively represent those he owes power. If he cannot do that, he is not worth his salt. Robert Gabriel Mugabe has let us down...
We remain with the burden of representing our people internationally. If we cannot stand up for what is rightfully ours, how can we contribute effectively to making decisions affecting the entire world? We have to perform our local and international duties as is expected of us and Zimbabwe will have its rightful share of international respect. Lingering effects of colonialism and Gukurahundi are the most common factors, primary causes of Zimbabwean challenges. There are unfinished transitions due to lack of leadership and failure to let go of the past has added to this in Zimbabwe. Transition is the time between an ending of status quo and a new beginning. It is the time required to establish a new state/system or to create an environment that fosters a new way of thinking. It is the time required for psychological reorientation. The danger of not differentiating the modified old and the real new is that we end up with incomplete or delayed transition.
Books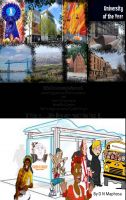 ...to be or not to be?.
by

D N Maphosa
Price: Free! Words: 1,960. Language: English. Published: August 26, 2010. Categories:
Screenplays
»
Comedy
This is a ten minute play submition to the Middlesbrough writers challange 2010. A zimbabwean Asylum seeker is sent to Middlesbrough by the UK Home office while her application is bieng processsed . this story is about her jouerny to a place ....to be or not to be .?.