Derek Paterson
Biography
Derek Paterson has a background in journalism and publishing. He has worked on newspapers, radio and television. He has founded his own magazine, published and edited several books, freelanced internationally as a writer and photographer, taught English as a second language and was part of the film crew that shot the world's first open sea, underwater footage of Orca (Killer Whales).
He has travelled widely and lived in North and South America, Europe and Asia and, of course, Australia and New Zealand.
Fine art photography, principally panoramic landscapes, is another passion and his works are hanging in homes and collections in Europe, North and South America, South Africa, Australia and New Zealand. His photographs have also been bought by the New Zealand Ministry of Foreign Affairs and Trade for hanging in missions around the world.
Books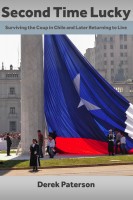 Second Time Lucky
by

Derek Paterson
Like thousands of others, Derek Paterson was incarcerated in Chile's notorious National Stadium following the coup of 11 September 1973. Politically and economically it was a different country when he returned to live 36 years later. This time he travelled throughout the country, reaffirming his love for the people and the landscape.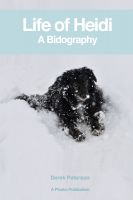 Life of Heidi
by

Derek Paterson
Heidi is a Canadian-born Border Collie. Rejected as a puppy, she eventually finds happiness and fulfilment with a New Zealand family. Along the way she meets a skunk and a porcupine, chases deer and rabbits and learns to climb mountains. After a hectic life of international travel, she has earned her sleepy retirement.
Derek Paterson's tag cloud