Pamela A. Kramer-Brown
Biography
Pamela Kramer-Brown, Ph.D., MBA has over twenty five years of for-profit and non-profit industry experience. She most recently spent over fifteen years in the medical device industry, including thirteen years in direct and indirect management roles.

Henry H. Kramer, Ph.D., FACNM has over forty years of for-profit corporate executive experience, including twelve years as a corporate vice president of a pharmaceuticals company. He has a further eighteen years as the founder and executive director of an international trade organization.
Books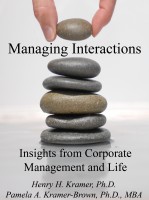 Managing Interactions - Insights from Corporate Management and Life
by

Pamela A. Kramer-Brown

&

Henry H. Kramer
The authors' 50 plus years of combined corporate management experiences generated some 'difficult situation' solutions not typically covered in business schools. This book distills these key insights into concise, actionable approaches that are practical in nature and useful for corporate and personal interactions.
Pamela A. Kramer-Brown's tag cloud