Jack Campbell
Biography
Jack Campbell has been fly fishing for over 30 years throughout the Western United States, Canada, Mexico, Europe, South America, and various points of the compass. After retiring as an independent businessman, he became a Director of Cascade Guides and Outfitters, the premier outfitter in Central Oregon. Residing in California, Jack and his wife Marcia spend two to three months a year at their vacation home in Sunriver, Oregon. He is an accomplished fly fisherman and enjoys gathering his friends for travel world wide using fur and feathers seeking fish.
Smashwords Interview
Books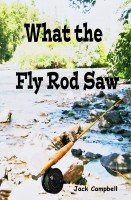 What The Fly Rod Saw
by

Jack Campbell
The fly rod, your constant companion sees it all, through travels, slips, falls and moments of glory. The stories cover worldly treks from stalking Marble trout in Slovenia, Robalo in Patagonia, Redfish in Florida , to Pike in Alaska. The nine contributor have their own style, making each story unique and entertaining. Join them in their journeys and find out what the fly rod saw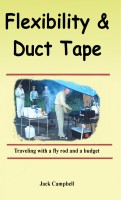 Flexibility & Duct Tape
by

Jack Campbell
As seen through the eyes of the "Wagon Master", Author Jack Campbell, explores the worldly travels of fishing through dusty and dirty sunglasses. His gang of four, the purported swashbucklers of fly-fishing, and their adventures from pristine Alaska to "ugly water" are humorously told in this fast paced and entertaining book.
Jack Campbell's tag cloud