Dean Kisling
Biography
Dean Kisling is a high school dropout who learned to type when he was 47. He has been a soldier, laborer, taxi driver, welder, carpenter, performing musician, acupressurist, fractal artist, mountaineer, trail runner and fool. He writes what happened and also makes stuff up. He lives in America and is very happily married.
Where to find Dean Kisling online
Books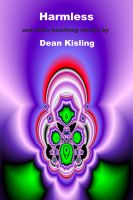 Harmless
by

Dean Kisling
Gravity REVOLTS against mankind! A CHICKEN comes home to roost... with a VENGEANCE! Ahab haunts the HIGH seas of MODERNITY! Discover the HORRORS of ACTUARIAL SCIENCE and the tattered SHREDS of ancient SECRETS! Thrill to the ghosts, mad cows and coffee fueled HALLUCINATIONS!
Dean Kisling's tag cloud