T. Xorí Williams
Biography
T. Xorí Williams was born in Brooklyn New York City. Xorí began writing woman inspirational Quotes to friends and family, who often said: "when are you going to write a book". To finally writing her own Novel, inspired by the Sister Souljah, Teri Woods, Donald Goines, Zane, James Patterson, Nora Roberts, Twilight, and the E L James series. While working two jobs, and still attending school, Xorí began writing, completing her first manuscript in 2017. Xorí has developed an ability to alter many projects at once, researching one book while outlining another. Xorí then decided to self-publish her first Novel online. From an early age, she always dreamt of writing stories that readers will fall in love with, and that dream has come true.
Where to find T. Xorí Williams online
Books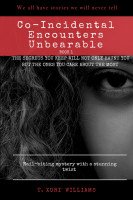 Co-Incidental Encounters Unbearable
by

T. Xorí Williams
Everyone has secrets some deeper and darker than others. Beneath her perfect demeanor, Zadie has been living a double life as a serial adulterer. Since then she faced many demons. Zadie pays in full, with her life and leaves doors open for her sister Zamora to unravel the mysteries of Zadie's past... Now Zamora is forced to investigate new leads that will open her eyes to many secrets.
T. Xorí Williams' tag cloud