James Hardesty
Biography
James Hardesty holds a bachelor's degree in Political Science and a master's degree in Public Administration. He has worked 14 years in government administration. As a life-long student of history, politics, society and religion, and as a government administrator, James has particular insight into the purposes, workings and effects of public policy. He is active in Republican Party politics and holds several party offices where he lives.
Where to find James Hardesty online
Books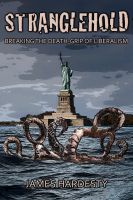 Stranglehold: Breaking the Death-Grip of Liberalism
by

James Hardesty
What every American should know about politics is found in this feisty analysis of American political and cultural morass. Equally feisty policy prescriptions are offered from a conservative perspective. If you vote, if you value American life, this book is a must-read.
James Hardesty's tag cloud