Don Tipton
Publisher info
Don and Sondra Tipton are the Founders and Directors of Friend Ships Unlimited.Friend Ships is a Christian humanitarian aid organization that has sailed ships throughout the world delivering relief supplies, carrying out disaster relief and conducting medical missions in North America, Central America, the Caribbean, Africa, Europe, the former Soviet Union and the Middle East. The organization and its team work in the aftermath of hurricanes, tornadoes, earthquakes and floods and in the course of wars, famines and extreme poverty. The organization has been in service since 1983.
Where to buy in print
Series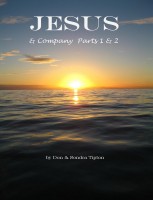 Jesus & Company
by

Sondra Tipton


&

Don Tipton
Since the beginning of time the Creator of the universe has inspired people to achieve specific, strategic assignments. Jesus & Company Parts 1 & 2 chronicle the journeys of Friend Ships, a modern day team sent by the Lord to help people in critical need. The books are a testimony to the way God directs the Friend Ships missions and delivers what is required including ships, boats, trucks and aircraft, thousands of volunteers and millions of pounds of humanitarian aid provided in a way that can only be seen as supernatural.
Books
Don Tipton's tag cloud