Praise Azeh
Born decades back in Lagos, Nigeria, Azeh Praise started life on earth, one which he soon found the purpose of, years after.

Having discovered he had a natural love for writing and speaking at a young age, he went on to build it, leading him to study Mass Communication in the University, where he graduated with a First Class.

Today, he is a Career Coach, Start-up Consultant and Creative Writer. Having worked with a couple of organizations within and outside Lagos, and been a part of numerous trainings, he's gradually making his mark in the Nigerian corporate world.

He runs a youth capacity development platform; YOU Empowerment
Initiative, where alongside his team members, they organize capacity building and business conferences/trainings for youths and entrepreneurs.

He's written a couple of books for start- up businesses, capacity development and content creation.

He is the convener of the yearly YOU Summit, a capacity development Summit for youths.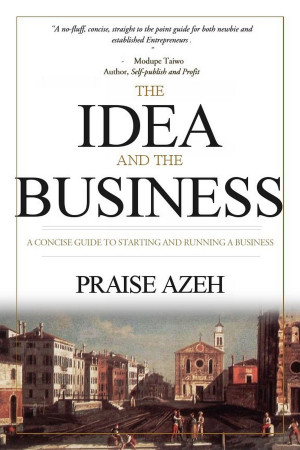 The Idea and the Business
by

Praise Azeh
Praise Azeh has provided insights and solutions to the problems that assail business owners from start-ups to established ones in a simple, easy to do manner such that anyone, anyone at all can apply the strategies and see results.