H. Meredith Hinds
Biography
H. Meredith Hinds is an Ordained Minister and the founder of Touching Families International Ministries. Meredith has been a Christian for the past forty-two years and is a member of the Goodland New Testament Church of God; St. Michael, Barbados where he sits on the Pastor's Council and conducts a vibrant weekly bible study. He served as the New Testament Church of God's (Barbados) National Life Builders' Director. He was also co-host of their National Radio Broadcast, "Words of Life," with Pastor Sandra Johnson and served in both capacities for a period of thirteen years.
Meredith and his wife, Ruth, were both trained at the Open Campus of the University of the West Indies, as Family life Educators, and have been involved in pre marital and post marital counseling, for over twenty years. They have been counseling with Network Services Centre Inc., one of Barbados' leading counseling centres, for over ten years. Meredith is one of Barbados' leading Calligraphers and he teaches the art, as well as inscribes certificates, book, etc., on the behalf of companies, educational institutions, organizations, and individuals.
Books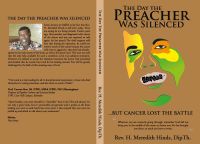 The Day The Preacher Was Silenced
by

H. Meredith Hinds
Twelve years ago, this preacher was diagnosed with cancer of the throat. The chief surgeon said he could not remove much of the tumor because the cancer cells were so aggressive, that they had already spread to the main artery to the brain and the spinal cord. He was offered radiation treatment as his only hope, but refused. He said he will believe His God for a miracle instead. Read what happen.
H. Meredith Hinds' tag cloud