Somerstein Prengel
Biography
Serge Prengel, LMHC, is in private practice in New York City. He sees change as a creative process, driven by the depth and immediacy of felt-sense experience. He wrote Scissors: A Whimsical Fable About Empowerment as well as other books, and is the editor of Somatic Perspectives on Psychotherapy. He has also been leading experiential workshops in a variety of venues.

Lynn Somerstein, PhD, NCPsyA, LP, RYT, licensed psychoanalyst in private practice, is Executive Director of the Institute for Expressive Analysis. Dr. Somerstein is on the editorial board of the Psychoanalytic Review and the author of numerous articles about yoga, anxiety, attachment issues and psychotherapy. Dr. Somerstein is also an international speaker, and has presented her work in India, Turkey, China, and in the United States. She uses the wisdom she has gained as a yoga teacher, psychologist and student of Ayurveda, or Indian life knowledge, to help people reach their innermost goals.
Books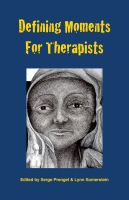 Defining Moments For Therapists
by

Somerstein Prengel
If therapy is a relational process, it takes a person on the therapist's end. The goal of this book is to capture the therapist's evolving sense of self as it is shaped by our experiences as active participants in a creative interaction. The essays in this book are first-person accounts, by eleven therapists, of some "Aha!" moments when they got to understand themselves better.
Somerstein Prengel's tag cloud