Shirley Poston
Biography
ABOUT THE AUTHOR
Veteran but still hip rock writer Shirley Poston lives and loves in Silverlake, the best part of her home town, Los Angeles, California.

Watch for the anthology of Shirley's rock and roll ravings, including her concert review that, unbeknownst to her for years, became the liner notes and title of the Dylan bootleg album/CD, We Had Known A Lion. Entitled BLITHER, the book will be available online in 2014.
Books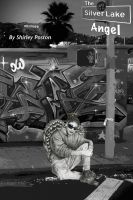 The Silverlake Angel
by

Shirley Poston
(5.00 from 1 review)
Not the usual angel book or your usual angel. This one's a teenage gangbanger (sort of) who bought it in a wreck, woke up with a pair of wings and a big problem. He needs earthly help and gets it from a nurse, a cop and the MysticHA, a band of late great rockers who come down (literally) to save the day. It's a drama, an adventure, a romance, a comedy, and a real wing-ding of a bargain!!!
Shirley Poston's tag cloud