Paul MacRae
Biography
I'm a former editor and writer with more than 30 years' experience at The Globe and Mail, the Bangkok Post and the Victoria Times Colonist, among others. In 2002 I left journalism to get an MA in English and now teach writing at the University of Victoria. I got interested in global warming because so little of what the public is told about climate change makes sense. After three years of research, I realized the reason is: what the public is told doesn't make sense.
Where to find Paul MacRae online
Books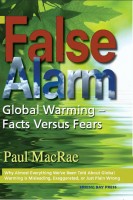 False Alarm: Global Warming--Facts Versus Fears
by

Paul MacRae
Fear: The public is told the planet is warming, humans are the main cause and the results will be 'oblivion'. Fact: The planet hasn't warmed in 15 years, humanity's role in warming is small, and past warming has even been called 'paradise'. False Alarm is for readers who want to go beyond fears to the facts about global warming--all the facts, not just the scary 'facts' of the climate alarmists.
Paul MacRae's tag cloud