John Neil Hall
Biography
John Neil Hall is a writer on politics, national security, foreign policy, major world events and people. While "Huff's Rapture" is his first novel, he is a vastly experienced journalist. For the final four decades of the 20th century and until 2006, he was an active newsman and for most of that time wrote a widely read column. Media General News Service, along with Scripps-Howard, syndicated Hall's column from coast to coast. He was Media General's bureau chief in Washington, opening and expanding a major news staff for the Richmond-based organization in 1979. He also brought it national acclaim with an award winning investigative report that forced the Navy to reverse its conclusion that an enlisted man had caused the fatal USS Iowa explosion in a suicide bombing. Hall's trip to Tehran during the 1979 hostage crisis, as crowds of more than a million were chanting Death to America, and later to Eastern Europe, as frontiers crumbled before the Berlin Wall came down, put his newspapers ahead of the international brigade of journalists. He was still globe-hopping in search of stories in the last months on the job. And he covered every national political convention and presidential campaign between 1964 and 2004. John Neil Hall was born in Philippi, W.Va., the son of public school teachers. Much of Huff's Rapture is set in the valleys, creeks and nearby towns where Hall grew up. He is a graduate of West Virginia University and is still married to the Parkersburg, W.Va. co-ed, Susie Deem Hall. After graduation, he went to work for the then flourishing wire service UPI in Columbus, Ohio and Trenton, N.J. before moving to Washington in 1965 with UPI, and later the Hearst Newspapers and Media General. Hall became a member of the prestigious Gridiron Club and one of its most prolific lyricists for its annual musical production defaming the famous. As the club's president in 2006, he invited a freshman senator from Illinois to speak at its Spring dinner – an engagement that has been a rung on the ladder to the presidency (to slip or vault.) Those who have vaulted on that Gridiron ladder to the White House have included Sen. John F. Kennedy and, as we would see, President Hall's guest of honor and 2006 speaker, Sen. Barrack Obama.
Where to find John Neil Hall online
Books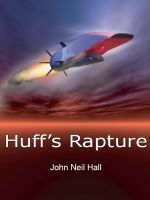 Huff's Rapture
by

John Neil Hall
This story of air power and palace intrigue is set in the middle of the 21st century. Author John Neil Hall's novel of power, deceit, murder, psy ops mysteries and redemption at the highest levels of a future American government takes the readers from the weightlessness of space to the horror of an air war over Siberia and a struggle for truth in the Appalachian Hills.
John Neil Hall's tag cloud