Pronami Bhattacharyya
Biography
The author is a research scholar pursuing her PhD in English Literature (African-American Travel Literature). She specializes in Indian English Literature (M.A.) and African-American (Travel) Literature (PhD). She has Qualified UGC NET and has presented papers in three seminars (one national level) and attended ICCSSR, New Delhi workshop on research methodology so far. Besides, creative writing, journalistic writings and translation are also her interests. She has published articles in literary journals, news dailies and online news portals.

This book, Let My Songs Be, The Door to A New Dawn..., released on the eve of the first death anniversary of Dr. Bhupen Hazarika, was a humble effort on the author's part to pay tribute to this legendary bard and at the same time make the masses (mostly outside the region) see the diversity of his thoughts, visions and the depth in them.
With the first effort given a wide applause, the author has now come up with the EPUB version of the print book, with twenty added translations.
Books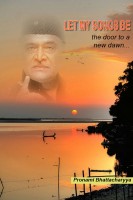 Let My Songs Be, The Door To A New Dawn...
by

Pronami Bhattacharyya
(5.00 from 1 review)
Let My Songs Be... is a collection of the songs of music maestro, Padma Bhushan Dr. Bhupen Hazarika translated from Assamese and Hindi into English poetry. The collection comprises of 41 select songs of Dr. Hazarika, which have been popular since decades and have been sung in many languages besides Assamese.
Pronami Bhattacharyya's tag cloud