Pearl Saffron
Biography
Pearl Saffron is an erotica author specializing in tales of dubious consent. Her stories are fantasies of surrender featuring reluctant heroines and the alpha males who serve them. Reluctance, imposition, submission, power struggles, and self-revelation are predominant themes in her stories. And of course, there's a lot of spicy sex too!

The males in Pearl's stories are often aggressive and domineering - but they are never cruel or malicious. Most importantly, these men don't take "no" for an answer - and the situational contexts of the stories allow them to dictate the rules of intimacy to their usually strong-willed but (at first) unwilling female partners.

All characters featured in Pearl Saffron's stories are 18 years or older.

Among Pearl's favorite authors are Sharon Green, Christina Dodd, Stephanie Laurens, Nora Roberts, and Lora Leigh. Each of these authors has written at least 10 books that Pearl reads over and over again.

The Penetrator is Pearl Saffron's first published work. It is a non-romantic sexual coming-of-age story.

Best Friends: The Erotic Saga of Michael and Margalit is Pearl's second published work. It is an erotic romance.

The Opening is Pearl's new semi-romantic short story.

Pearl Saffron lives in the Western part of the United States. She loves to read, write, teach, and learn - all of these as much as possible.
Books
The Opening
by

Pearl Saffron
This is a female submission fantasy featuring dubious consent and dildo use. When Ari, a proud high-ranking male in the community, kisses independent, untouched Lia, he senses her passion and claims her for his own. Lia fiercely resists his claim. To win her, Ari must take her through the fearsome Ritual of the Opening. Will he be able to transform Lia's defiance into desire? For adults 18+.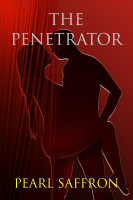 The Penetrator
by

Pearl Saffron
Price:
$1.99 USD.
Words: 33,140.
Language: English.
Published: March 28, 2015
. Categories:
Fiction
»
Erotica
»
General
Have you ever fantasized about submitting to the sexual demands of a total stranger? What would happen if your fantasy came true? Join Lulu for the erotic ride of her life as she unknowingly invites a mysterious man into her home and into her body one moonlit night. This intense novella of dark gray semi-consensual sex is intended for the mature reader only.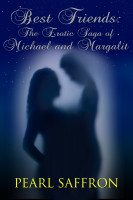 Best Friends: The Erotic Saga of Michael and Margalit
by

Pearl Saffron
Price:
$1.99 USD.
Words: 56,390.
Language: English.
Published: September 21, 2014
. Categories:
Fiction
»
Erotica
»
Romance
One night shortly before Margalit's 25th birthday, her best friend Michael asks her to tell him her deepest, darkest fantasy. Margalit's titillating answer challenges them both to explore and test the physical dimensions of their relationship. This dark-gray erotic romance features sexual activity with dubious consent, vaginal and oral penetration, lactation, and hymen testing. For adults 18+.
Pearl Saffron's tag cloud