Paul Tchir
Biography
Alive and well, despite being given only a 5% chance of surviving his own birth, Paul Tchir is a Canadian-born, Texas-educated, Arabic-speaking (sort of) Californian Wikipedia administrator, amateur street luger, and former deadpool champion who is missing part of a finger due to an unfortunate accident involving a cooking class in the second grade and an inattentive chaperone. Although this injury meant that he was unable to attain his childhood goal of becoming a paleontologist, fortune soon smiled upon him and he was inspired to enter theatre after Charles Bronson cut in front of him in a hot dog line in junior high. He studied under the tutelage of Neve Campbell's father for a year before abandoning this pursuit to write the sequel to Jurassic Park.

Although his pitch was rejected as having "already been written", Paul was not discouraged and has since persisted in his quest to produce literary entertainment. When he needs to convince his wife that he does more than play retro video games and watch old episodes of Star Trek, he works towards the completion of his Ph.D. in history at the University of California, San Diego, where he once toiled for the school's Koala newspaper for about a year, until he was kicked out for not being funny. According to Google, he also gave 2001: A Space Odyssey a bad review on IMDB, moonlights as an Olympic researcher, and has not accessed his Neopets account in over a decade. He lacks the necessary qualifications to write this book, having never killed a celebrity, but he did stab Jenna Haze's cousin in the stomach once. According to reliable sources, he does, unlike Mr. T., have time for jibber jabber, but only by appointment. As you may be able to tell, he has nothing to hide.
Books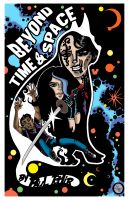 Beyond Time and Space
by

Paul Tchir
Price:
$2.99 USD.
Words: 102,370.
Language: Canadian English.
Published: March 26, 2014
. Categories:
Fiction
»
Fantasy
»
Urban
Dead celebrities are being used by divine beings to harvest life on earth!
Paul Tchir's tag cloud