Anda J. Santoso
Biography
I have been an educator since 2005 and I am as passionate about teaching today. I believe in educating the whole child.

When I'm not teaching, I enjoy reading, bowling, journal and writing and brisk walks on the beach.

I consider myself an organized, hard-working, and self-motivated teacher who puts a great effort into preparing my lessons while using multiple teaching strategies to keep my students focused and interested.
Books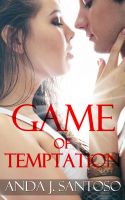 Game of Temptation
by

Anda J. Santoso
Elven Prince Arun is determined to preserve their lineage and stop the rampage of humans. What started as a challenge to extract information from the human Princess Alethi, became a game of lust and seduction that will force either the elven prince or the human princess to surrender in the throes of passion...and perhaps, something more.
Anda J. Santoso's tag cloud