Pujita Krishna
Biography
Tethered to a bittersweet relationship with Hyderabad where she currently lives, Pujita Krishna's unceasing fascination with human trials and tribulations is fed by the city's multi-layered and diverse culture; it has informed her artistic temperament that sparks both her dance and her writing. She practices a unique temple tradition called Vilasini Natyam aside from Kuchipudi and has authored a book on the revival of ritual dancing at the Ranganathaswamy Temple in Hyderabad. Writing on whim on occasion and at other times furiously on matters that are close to her heart, she has had her short stories as well as articles published in different media over time. She writes regularly on dance for The Hindu. She has no pets but loves all animals from a distance and is a very fastidious lover of music, although her long and never ending affair with guys like CCR, America, and J J Cale carries on till the end of time. This is her first novella. She hopes it's not going to be her last.
She can be reached at pujitak@gmail.com.
Books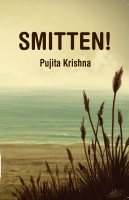 SMITTEN
by

Pujita Krishna
Populated by women, their desires, dilemmas, decisions and doubts, this book undoubtedly seeks women as its favoured readers. Men are welcome to help themselves to it as well, but they may find themselves somewhat lost in a literary setting that nudges them aside, albeit playfully.
Pujita Krishna's tag cloud