David Kirk Patrick Lester
Biography
David Kirk and Patrick Lester born from our mothers, in hospitals in England where doctors and nurses work, were two individuals born at separate times and places. They spent the first years of their lives eating messily and crawling on the floor speaking incoherently. Very little has changed. As the two young chaps grew (still separately) they each had something special waiting and growing inside of their minds. It was a sunny day when the two men met, a Tuesday, a bond was immediate. Forged from chats about chimps, eagles and economic crisis an idea was conceived and that was this very deep and meaningful book.
Books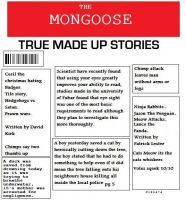 True Made Up Storys
by

David Kirk Patrick Lester
Eight short stories of biblical proportions,wonderful madness for all. We recommend using your eyes to read it!
David Kirk Patrick Lester's tag cloud